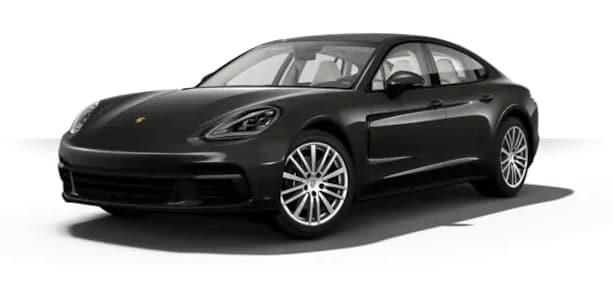 Since 1948, Porsche has been top of the class and sought out by car collectors. Through our continued efforts to re-evaluate and reinvent, the new generation of the Panamera is ideally equipped for the road. As a top pick for drivers seeking high performance and luxury, 2019 is no different. Even at its base, the Porsche Panamera does not limit you in performance. With a V6 engine at a robust 330 horsepower, this is paired to an eight-speed automatic gearbox. Not enough? It also features 19 inch Panamera wheels, air outlet grills painted in black, rear-wheel drive, and Porsche communication management. Yes we know, you should not expect less than the best of class with Porsche, and we can't say this enough the 2019 Panamera is no different.
With all the needs of a sports car, the 2019 Panamera still embraces the popular features that give buyers the luxury they expect with seats of high-level comfort and with the request the power seats are also available with a massage function. All to improve your long-distance travel. This four-seater sedan has a roomy rear captain's chairs and a full-length center console. Comfortable for four adults for an improved travel experience. Never losing its sports edge but with the needs of a sedan, this may be the perfect blend for you.
We, at Suncoast Porsche, have always carried ourselves to a high standard and Porsche's popular features are all in the 2019 Panamera. All of our drivers enjoy our wide-view navigation screen, while the Wi-Fi hotspot allows your passengers (and yourself remember always to practice safe driving) to be connected at all time. Additional fabulous features are the panoramic sunroof, keyless ignition, and apple carplay. The Panamera's optional equipment can be costly such as a new color head-up display, but lucky for all of our Porsche lovers these features are now standard.
The Porsche Panamera was completely redesigned for the 2017 model-year. With a classic long-roofed model as the foundation of the lineup know that although there will be no design changes the silhouette and proportions of the Panamera are more Porsche than ever. We had to ask ourselves if a sports sedan had to look like a sedan? Not for Porsche. Rounded transitions, powerful muscles, and sharpened silhouette, this is not your average sedan. Although the interior has been completely restyled with the center console that ascends towards the front and the dashboard is flat and wide. Want more new? Our Porsche Advanced Cockpit with direct touch control has a glass-like surface for easy to navigate essential functions.
As part of the Porsche family, we will always hold ourselves to a higher standard not just for us but for you. The drivers that take pride in the Porsche brand and honor it every time you take yours for a ride. Suncoast Porsche can and will be there with you from start to finish. Financing to customizing. You know the beauty and power in every Porsche model, let the Panamera 2019 be your next adventure.

Intrigued by the Porsche Panamera? Take a look at our current inventory and check our specials, there might be a deal on your dream Panamera.