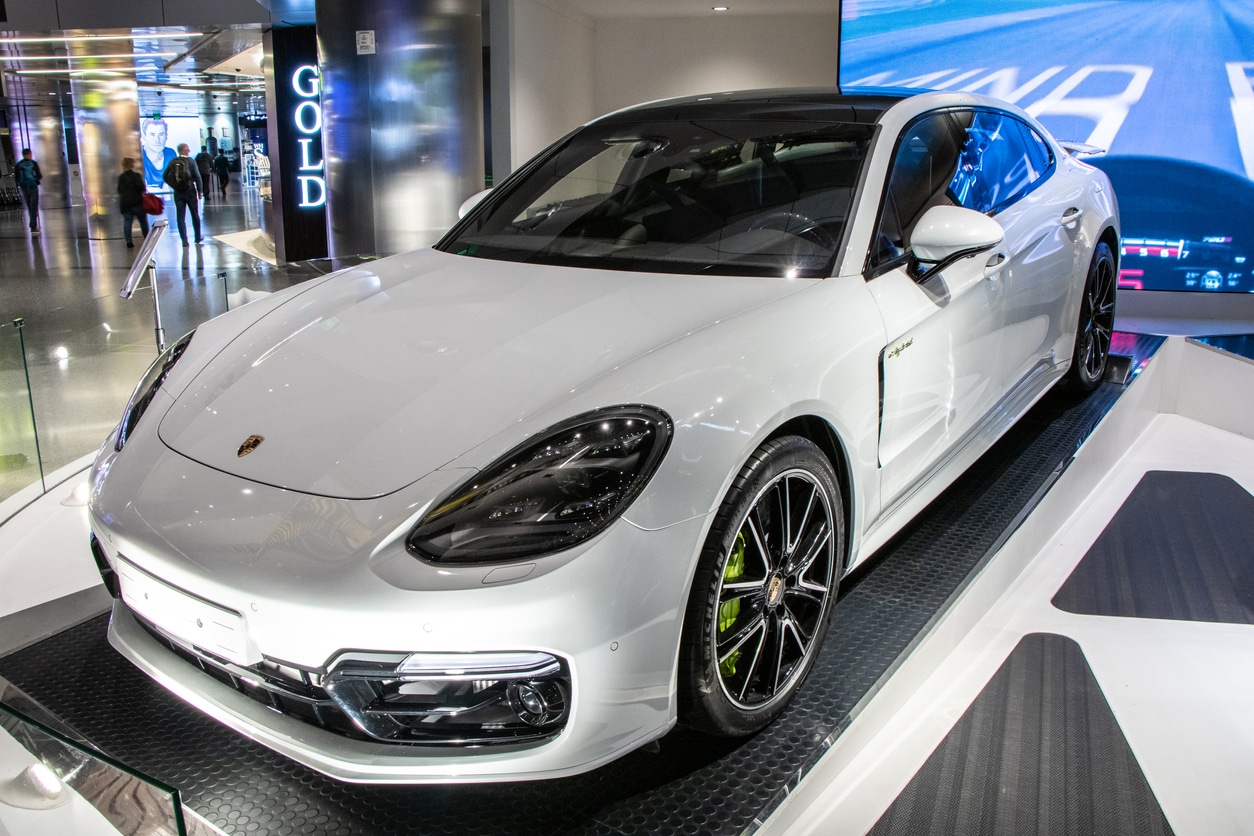 There are cars, and then they are Porsches. Every car that has ever rolled out a Porsche Line is a testament to this. This year's Panamera E-Hybrid is no exception. Make no mistake; this was a statement from Porsche that they are still the undisputed kings of the luxury performance market. This 2020 Porsche Panamera commemorates ten years of automotive brilliance and seven years since Porsche started mating their magnificent engines to electric motors.
Exterior
Even from miles away, the exterior screams that the Panamera is a Porsche. There are minimal improvements in this year's Porsche Panamera's look. You get the sleek exterior that is sporty and imposing even for a four-door Porsche. At the snout is the iconic Porsche logo with two LED headlights at each side. To separate it from its fuel-powered siblings, are the acid green brake calipers at each edge of the 19-21 inch alloy wheels. At the rear end is an adaptive spoiler and thin LED rear lamps.
Interior
The interior of this Panamera is an automotive a work of art. With simplicity, style, and luxury, this Porsche still manages to be sporty inside as it is outside. Nothing feels cheap inside this Panamera. From the chrome trim dials to the metal door handles, everything you touch feels premium and spells luxury. The leather seats are some of the most comfortable ever to be placed in a Porsche. Being electric, they come with heated front seats and 8-way adjustability as standard which improves as you move further up the trim.
These Porsche being longer offers maximum knee and legroom for the back seat, which can comfortably sit people way above six feet. The luxury extends way to the back seats, which are the most spacious back seat in any Porsche sedan. Additionally, the leather stitched seats recline and have their climate controls conveniently placed on the armrests.
Infotainment
The center console is plush with metal bits of trim and stitched leather. The dials and controls are nicely layered out and are within comfortable reach. The console leads up to a 12.3-inch touchscreen that offers world-class graphics. The Infotainment system has Apple Car Play compatibility and a voice command together with the ten speakers of the amazing Bose Sound System.
Engine
The Panamera E-Hybrid comes with two engine options. Beneath the hood, there is a potent 2.9-liter twin-turbo V6 that offers a mind-blowing 330 horsepower and 327 lb-ft of torque. Second, for those in need of the extra punch, the powerful 4.8-liter twin-turbo turbo engines provide an astounding 457 horsepower and 516 lb-ft of torque.
All these engines are mated to an electric motor powered by 14.4 kW batteries that offer an additional 134 horsepower and 295 lb-ft of torque.
Transmission -

With this Porsche, you get the best of these engines mated to a smooth 8-speed automatic PDK transmission.

Fuel Efficiency -

The Panamera being a hybrid is big on fuel efficiency. The efficiency averages 23 mpg on the hybrid engine. The electric motor working alone offers 14 miles of range and a mind-blowing 51 mpg on fuel efficiency.

Speed

- Needless to say, whichever engine you pick, the Panamera is one of the quickest cars you can ever get offering 0-60 in just 4.4 seconds in the base models and a crazy 3.2 seconds in the twin-turbo V8 engine.
Handling
Driving the Panamera E-hybrid is an experience thanks to its driving modes tailored for any situation. It handles excellently for such a heavy car thanks to its standard adaptive air suspension. The drive is conveniently silent thanks to the soundproofing, and it handles excellently around corners due to its bulky frame.
Models
The Panamera E-hybrid comes in seven models to cater to the preferences of each Panamera fan out there. The options are spread out in seven trims which are the base model, the ten years edition, Sport Turismo, Executive, Turbo, Turbo S Turismo and Turbo S executive. Here at Suncoast Porsche, we transform Porsche lovers into Porsche Owners. Contact us today and let us help you put a Porsche in your driveway.