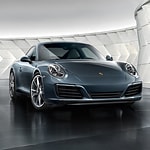 To simply state it, the Porsche 911 Carrera is a piece of automotive ingenuity. There's no arguing this particular statement because this sports car has stunning good-looks as well as high-performance engine components. Let's dive in a bit deeper to get a better understanding.
The Porsche 911 Carrera will come in a variety of trim levels. This includes the Standard, Carrera S, Carrera S Cabriolet, Carrera 4S and more. Of course, consumers can choose from a convertible or a hardtop. In addition to that, consumers can choose from a vast range of exterior paints. Metallic, standard and custom hues are available. The appearance of this rear-engine sports car is phenomenal with its flat surfaces and rounded edges. Porsche's name looks stellar as it sits below the sloped rear window and in between the rear LEDs.
All sports car lovers should visit us today for an up-close and personal viewing of this masterpiece.