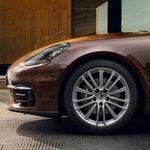 Here at Suncoast Porsche, the Porsche Panamera is seen as one of the leading luxury sedans on the market with every aspect of design created to enhance the driving experience.
The Porsche Panamera is a luxury performance sedan that hits a top speed of 164 mph with 330 horsepower to create one of the fastest luxury vehicles on the road. When driving around Sarasota in the Porsche Panamera, you are going to want to feel safe and secure in your seat whether you are driving or a passenger.
The driving experience in the Panamera is one of the most impressive around and the seating options are just as important with their design keeping you safe on tight, fast corners without restricting your movements in your seats. The same amount of dedication to comfort and style has been put into the rear seat design which has split the back seating area into two individual seats.