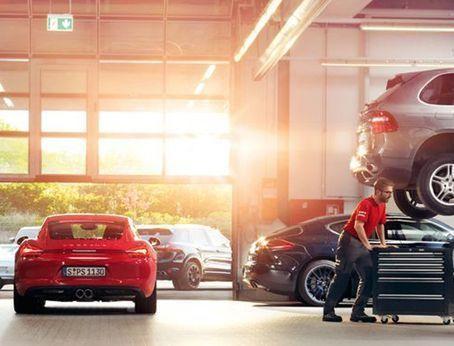 Suncoast Porsche is part of the Sunset Auto Group and use our own professionally trained, certified and experienced body shop on Bee Ridge Rd in Sarasota. Sunset Collision Center of Sarasota is conveniently located in the heart of Sarasota, just a few blocks east of US 41 (Tamiami Trail), at 2200 Bee Ridge Road. We have much to offer our customers at Sunset Collision Center of Sarasota, including free limousine service to or from anywhere within Sarasota city limits, free car wash and interior cleaning and free brush touch-up of those annoying minor nicks and scratches. We hope that you never have a need for our services at Sunset Collision Center of Sarasota, but if you do, please give us the opportunity to discuss your repair options at no cost or obligation. We accept all insurance company estimates, or we can provide you with a free estimate (by appointment) on any make or model vehicle. In addition, we participate in Direct Repair Programs with several major insurance companies. When speaking with the insurance company representative, insist on having your vehicle repaired at Sunset Collision Center of Sarasota.
Sunset Collision Center of Sarasota will guarantee the restoration of your unibody or full frame vehicle to manufacturers specifications with the use of our state of the art equipment and technology. How are we able to do this? The sophisticated manufacturing process of today's vehicle incorporates the use of computerized robotic equipment, resulting in very close tolerances. Our structural repair and measuring equipment utilizes similar computerization and programming technology to ensure that your vehicle is dimensionally correct. Structural repairs are documented with a before and after repair hard copy printout that guarantees the structure of your vehicle to be within the tolerances established by the manufacturer. Accurate structural repair is essential for the proper fit of exterior body panels and alignment of critical steering and suspension components.
Sunset Collision Center of Sarasota is an I-CAR Gold Class certified repair facility; all of our technicians are continually updating their expertise with the latest repair techniques and procedures available to our industry. Only the best technicians in the industry are awarded certifications after rigorous training and successful completion of related testing. We are proud of the fact that all of are technicians are also A.S.E. certified in their respective fields.
Quality Refinish Guarantee: The most visually noticeable aspect of any repair is the refinish process. Color matching and duplication of the factory finish is accomplished by utilizing only the highest quality materials available. Sunset Collision Center of Sarasota is a Certified Glasurit Refinish Warranty Center, which means that your vehicle will be refinished with the finest quality coatings and guaranteed by the BASF North American Refinish Warranty. Only manufacturer certified repair facilities, with highly trained refinish technicians have the ability to offer this type of warranty on paint materials applied to your vehicle.
Whether you are in need of a small cosmetic repair or have been involved in a major collision, the trained professionals at Sunset Collision Center of Sarasota are here to assist you. Please contact us by phone at 941-922-1577, Monday through Friday from 7:30am to 5:00pm.